TikTok for Music Teachers
Learn how to utilize TikTok to get More Students. 

Music Teachers:
Your Students and Parents are leaving Facebook and Instagram.
TikTok is growing, and your competitors are not using it!
Facebook lost over 2 million active users in 2020, despite everyone being online during the pandemic.




FB User Satisfaction is low and more Small Businesses who rely on paid FB advertising are receiving unsatisfactory results.
Most Music Teachers and Arts Schools thrive on the support of parents and adult students ages 20 - 45.

While Facebook and Instagram's older audience is growing (ages 45 - 65) Millenials and Gen Z are scrolling less and relying more on the platforms for the messenger app.
Learn how to use your talents to get students on TikTok!
 Whether you are a local studio or trying to reach a global audience, learn how you can use TikTok to get more students... and without paid advertising!
Learn how to reach your ideal students.
You don't need to be popular or even go viral!
Receive a Clear path to reach your first 1k followers.
Getting to 1,000 followers is key... and easier than you think.
Turn followers into paying students! 
Learn what to say and create your call to action to get your followers into your studio!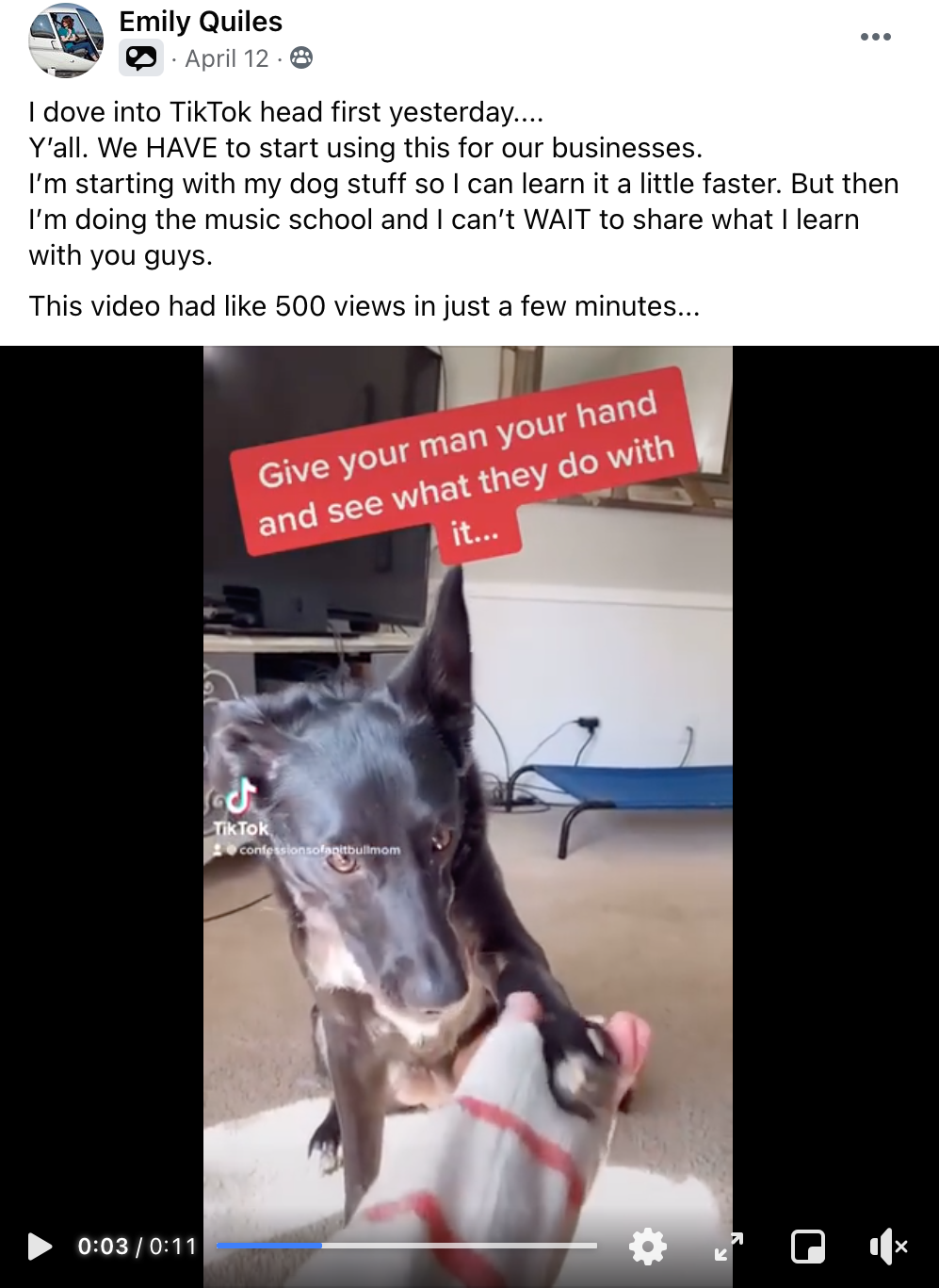 TikTok Workshop
Learn how to use TikTok to grow your audience and get more students.
Step 1
Register for the Workshop!
Step 2
Mark your Calendar! We'll send you a link to join the live zoom call on June 22nd at 1pm E.T.
(You'll also receive a workbook and the video recording to refer back to at any time.)
Step 3
Receive a clear path to get your first 1k followers and how to turn them into paying students.
Meet Matt! 
In December of last year TSC Member Matt Johnson took a big leap of faith, quit his job, and decided to teach voice lessons online. 
His main platform? TikTok. 
Matt grew his online audience to over 169,000 viewers and doubled his income in a matter of 3 months! 
Join us for our TikTok workshop on June 22nd at 1pm E.T. with our guest host, Matt! 
In this workshop, Matt will teach you how he grew his TikTok audience and tricks, as well as how to turn those followers into paying students. 
It's time to branch out and showcase you and your studio to get more of your favorite students.
Register for the workshop today and learn how easy it can be for you to grow your audience through TikTok!